Immerse yourself in the marine world and explore your passions for veterinary science, animal care, animal training and research.
The Pre-Vet: Marine Animal Health and Veterinary Science course will be hosted at Mystic Aquarium in Mystic, CT where students will have the opportunity to immerse themselves in the marine world. Throughout this course students will be interacting with aquarium research scientists, veterinarians, animal trainers and animal rescue professionals to understand the science behind their work. Students will gain knowledge and experience through labs and activities focused on animals at Mystic Aquarium including penguins, seals, reptiles and fishes.
Through this course students will participate in labs, tours and activities that will increase their scientific literacy in genetics, hematology, microbiology, anatomy and physiology. Students will learn about careers and education/career pathways directly from working professionals to understand if animal health and veterinary science is a desirable education and career path. Journal discussions will develop students' skills in reading and analysis of primary scientific literature.
The course involves off-site visits to Mystic Aquarium and the UConn, Avery Point Campus. Supervised transportation is provided by the program and is included in the course cost and fees. Parents/guardians and students will be required to submit Mystic Aquarium participation forms prior to attending this course.
Sessions Offered
Session 4: July 16 – July 22 - FULL

Session 5: July 23 – July 29 - FULL
Format
Residential, Non-Credit
This class is meant to be immersive and students will experience:
Learn about a wide variety of careers in animal health and veterinary science, from professionals in all stages of their careers.
Participate in lab programs focused on hematology, microbiology, molecular biology, anatomy and physiology, and learn how each is utilized to analyze an animal's health.
Observe feeding and training sessions with beluga whales, penguins and sea lions, and have the opportunity to learn from and ask questions of their animal care teams.

Please note: students will not have direct encounters with marine mammals.

Visit behind-the-scenes areas to view animal care, research and veterinary staff at work. This will include a visit to the animal rescue clinic to understand the veterinary care of both animals at the aquarium temporarily for rehabilitation as well as animals permanently in our care.
Explore current topics in marine mammal research during journal article discussions.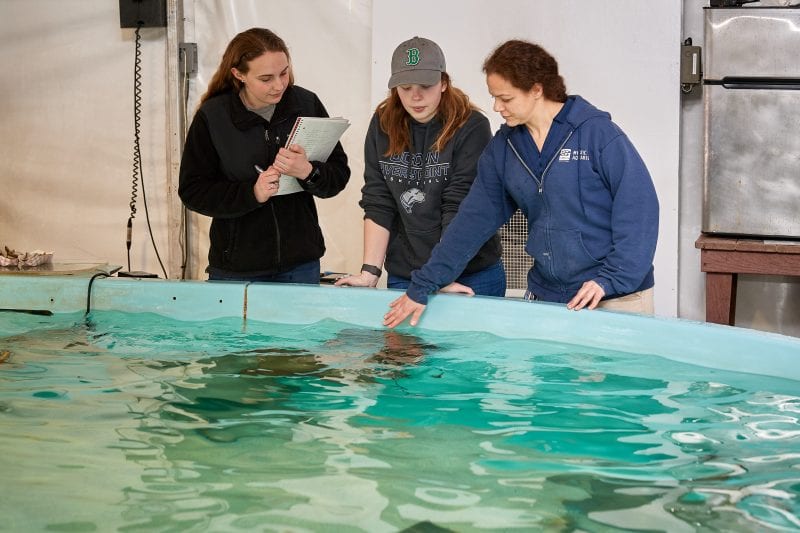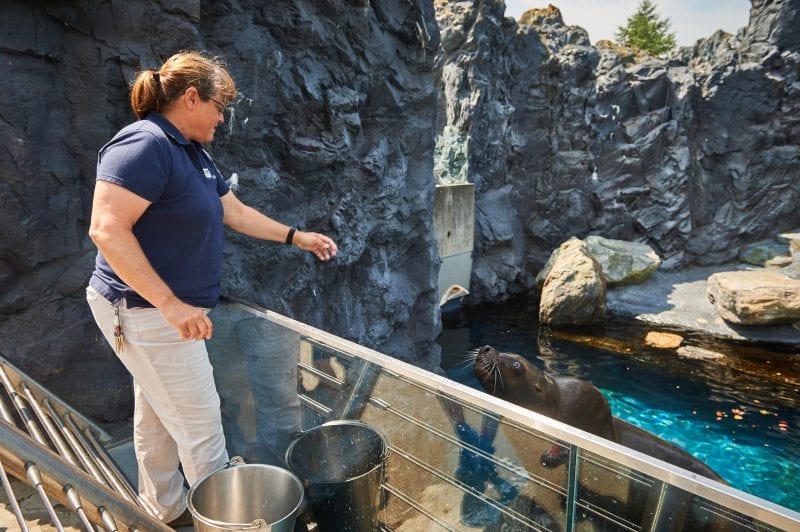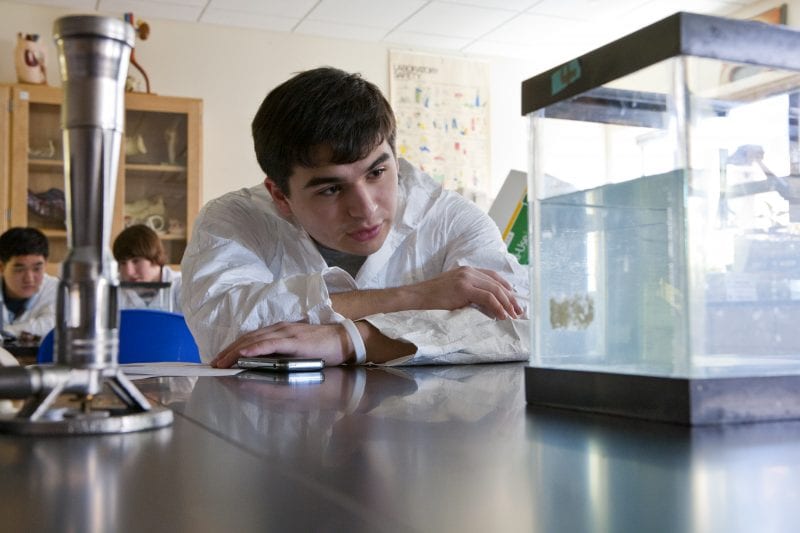 Dr. Laura Thompson, Ph.D.
Mystic Aquarium Research Scientist
University of Connecticut Assistant Professor in Residence of Marine Sciences
https://marinesciences.uconn.edu/person/laura-thompson/
Dr. Thompson is a research scientist at Mystic Aquarium where she has held multiple positions since 2005. Her time at Mystic includes carrying out her PhD studies on dive physiology in Marine Mammals, as a joint student with the University of Connecticut Marine Sciences Program. Dr. Thompson is involved in many aspects of research at the Aquarium including the development of non-invasive sampling techniques and investigating the response of the immune system to environmental and anthropogenic challenges. Her unique area of interest lies in understanding the complicated relationship between diving and health, via adaptation of the immune system in marine mammals as compared with humans. Dr. Thompson holds a BSc with Honours in Marine and Freshwater Biology from Queen Mary College, University of London and a PhD in Oceanography from the University of Connecticut. She is also an Assistant Professor-in-Residence at UConn, and lectures for Marine Biology courses offered at UConn and URI.